We have been awarded the   URC  Child Friendly Church  Award.
This means that we aim to :-
*  have a comprehensive and shared vision for Children's and Youth Work
*  provide good opportunities for the voices of children and young people to be heard
*  take seriously and respond to feedback from children and young people
*  provide opportunities for children and young people to be involved in planning, organising and delivering child friendly church services
*  make suitable provision for under 5s in church
 *  provide groups and organisations to help nurture children and young people
*  take safeguarding, Health & Safety and First Aid seriously
 SUNDAYS
CRÈCHE
A crèche will usually be available for infants.
YOUNG PEOPLE
 The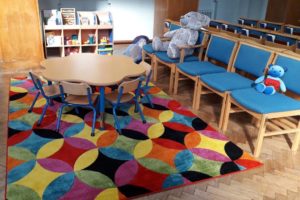 activity area is available at the back of the sanctuary for children and their parents, or carers, to use. On the third Sunday of the month the children and young people will go out to their own activities in Junior Church.
WEEKDAYS
TODDLER GROUP (S)
 We are a friendly group that has been running for over 30 years.  Toddlers runs every Monday during term time between 9.30 and 11.30 and is open to all mums, dads,  grannies, granddads and carers who have children from 0 to 5 (pre-school).

NEW – STARTING Thursday 5th SEPTEMBER – a second group.
Click here for more Information 
UNIFORMED ORGANISATIONS
 RAINBOWS
Rainbows is for girls aged between five to seven and they meet in the Scout Headquarters, FarmFields, on Wednesdays at 4pm.
BEAVERS (see below)
Beavers meet in the Scout Headquarters, FarmFields, on Thursdays  at 4.30pm
CUB SCOUTS (also see below)
Cub Scouts  meet in the Scout Headquarters, FarmFields, on Mondays at 6.30pm
SCOUTS (also see below)
Activities include camping, hiking, canoeing and swimming with encouragement being given to developing a greater awareness of the love for the outdoors.They meet in the Scout Headquarters, FarmFields, on Thursdays at 7.30pm
For further information about Beavers, Cub Scouts and Scouts please visit the  18th Purley   website